Latest Updates :  29-11-2023:
 Book Showflat Appointment With Us ( Showflat Opens Daily By Appointment )
Hillhaven 顶林佳苑 Brief Project Information
| | |
| --- | --- |
| Location / Address | 5, 7 Hillview Rise |
| District | 23 ( Bukit Batok Planning) |
| Developer | Sekisui House and Far East Organization |
| No of Blocks / Storey | Tower A (27 Storeys), Tower B (28 Storeys) |
| Description | Proposed residential development consisting 341 apartments |
| | with basement car park, swimming pool and communal facilities at Hillview Rise. |
|   | TBA |
| Total Number Of Units | 341 units |
| Site Area | 10,395.2 m² / 111,893.93 sqft |
| Unit Mix | 2 – 4 Bedroom Types |
| Tenure | 99 Years commencing from 13 February 2023 |
| Number Of Parking Lots | 341 Carpark Lots ( Multi- Storey Car Park) |
| Expected TOP | Estimated Q3 2027 |
About Hillhaven Goverment Land Sales Bid
Hillview Rise site attracted 4 bids in total, with the highest bid being $320.78m or $1.024 psf per plot ratio.
Far East Civil Engineering, and Sekisui House jointly submitted the winning bid.
It is not the first time the 2 developers worked together. They had previously partnered on huge a fully-sold out mixed development known as One Holland Village Residences.
The Group's winning bid for the 99-year tenure Hillview Rise site was 1.3 percent higher than the second-place bid by subsidiary of City Developments Ltd at $316.8m ($1.012 psf ppr)The CEO of Far East International expressed his delight at having won the popular Hillview Rise site tender.
This GLS site has a gross floor area (GFA) of 313,308 sqft and land area of approximately 111,894 sq ft. Hillhaven is estimated to be able to house around two 27-storey towers and up to 335 new homes. Due to Singapore Height Datum, Hillhaven condo is limited to maximum 120 m height.
The developers believes Hillhaven project will be a great addition to their portfolio in the area as the closest project Midwood, launched in late 2019 has been fully sold.
Moreover, Far East International had some strong foothold in Hillview estate with Hillvista, The Lanai and The Hiller as the newer developments they have built in this location.
EdgeProp's analysis projected that Sekisui and Far East are likely to price their units in the new Hillview Rise project at a market median of $2,042 per square foot.
About Hillhaven Developer
Far East Organization and Sekisui House are two respected names in the real estate sector, making major contributions to its growth across various regions. While Far East Organization stands as one of Asia's largest diversified property companies, Sekisui House is recognized as one of Japan's premier real estate groups. Both groups earned their distinctive features and achievements while emphasizing their dedication to excellence and innovation.
Far East Organization is founded in Singapore, has strong presence since 1960 and today as grown into one of the premier real estate players since their incorporation. Their diverse portfolio – comprising commercial, residential, hospitality and industrial properties – has transformed skylines and communities throughout Asia.
Far East Organization, well known for their dedication to quality and sustainability, has garnered them numerous accolades including winning the FIABCI World Prix d'Excellence Award.
Far East Organization's success can be attributed to their customer-first approach, ensuring every development meets the distinct needs and aspirations of its residents and tenants.
Sekisui House has long been an influential force in Japan's real estate market. Established in 1960, this group has consistently provided innovative and eco-friendly housing solutions with excellent craftsmanship and attention to details, earning itself an impeccable reputation among Japanese homeowners.
Sekisui House stands out as an industry leader by emphasizing eco-friendly building practices in their designs. They pioneered "Eco-First" homes that prioritize energy efficiency and sustainability by using advanced materials, Sekisui House has successfully reduced carbon emissions while encouraging green living practices – thus earning recognition such as Japan's Ministry of Economy, Trade and Industry Energy Conservation Grand Prize Award.
Sekisui House's dedication to community development can be seen in their efforts to build sustainable and inclusive neighborhoods. They had undertaken projects often featuring amenities like schools, parks and healthcare facilities – fostering a sense of belonging and increasing overall life quality among residents.
Far East Organization and Sekisui House are two outstanding players in the real estate industry, each making an indelible mark on their respective regions.
The 2 developers will jointly develop Hillhaven in Hillview Rise, putting their dedication to quality, sustainability and innovation.
Hillhaven's pricing will be released nearer to its preview dates in Q1 2024.
Hillhaven at Hillview Estate, set amid the lush Dairy Farm Nature Park and Bukit Timah Nature Reserve, is an idyllic residential enclave on Singapore's Western fringes. Offering modern comforts while paying tribute to history, this residential estate has transformed from its early 20th century plantation days into today's vibrant mix of good class bungalows, retail outlets, luxury condos and natural features.
Hillview Estate was initially an agricultural region specializing in rubber production as well as pepper and gambier crops. After World War II, British troops established Hillview Military Camp which is in use today by Ministry of Defence's Science and Technology Agency. Hillview evolved over time from an industrial and miliarty area to a tranquil and pleasant residential neighbourhood.
Hillview Estate is known for offering luxurious and diverse residential options that range from Good Class bungalows, exclusive luxury condominiums to intimate low rise apartments. The new Hillhaven condo will feature unique architectural design features that complement the tranquil environment within this peaceful estate.
Hillview residents enjoy living amidst lush, green surroundings near Bukit Timah Nature Reserve and Dairy Farm Nature Park – two of Singapore's largest remaining patches of forests with hiking and cycling trails available within their boundaries.
The Rail Corridor is an historic rail track near Hillhaven that now serves as a recreational trail, providing eco friendly access through Singapore while creating an idyllic outdoor environment suitable for community events, exercise and nature appreciation.
Hillview Estate is far from being a sleepy boring suburb despite its closeness to nature parks. Right beside Hillhaven condo sits the popular HillV2 shopping mall which provides residents of Hillview Estate with great convenience at their doorstep. This modern mall houses restaurants, cafes, supermarkets and lifestyle stores that can meet a range of needs; additionally there's The Rail Mall just minutes away offering even more dining and retail choices!
Today, Hillview Estate is well served by an efficient network of public transport that makes travelling between different parts of Singapore simple and hassle-free. Hillhaven is just five minutes' walk to Hillview MRT Station (DTL), providing fast trains that connect directly with Marina Bay, Central Business District and other key locations. Furthermore, efficient highway networks such as Bukit Timah Expressway (BKE), Pan Island Expressway (PIE) and Ayer Rajah Epressway (AYE) ensure accessibility throughout.
There are numerous renowned educational institutions nearby, such as Our Lady Queen of Peace School (CHIJ), The Assumption English School Singapore and German European School Singapore.
Hillview Estate's focus on maintaining its unique environment, and creating a comprehensive living experience right at its residents' doorstep is of utmost importance.
Hillhaven will stand out for its quality of living, which can only be experienced first-hand.
To discover more, download Hillhaven E-brochure and explore your surroundings using Hillhaven Location Map.
Due to Singapore's recently introduced cooling measures, purchasing a brand new condo launch in Singapore can be an intimidating and complicated process.
This is particularly true if you already own multiple properties as you will incur additional buyer stamp duty taxes (ABSD).
Here at Hillhaven, we provide you with updated market trends and financing calculations to make well-informed choices.
Visiting Hillhaven Showflat is not just to view its interiors. We also provide you an unrivalled opportunity to imagine and experience the luxurious lifestyle that lies in store for you.
Showcasing this harmonious living environment which blends modern luxury with functional design, as well as its nature connections.
Hillhaven Showflat will likely preview and open for sale towards the beginning of 2024.
There are giving two different options to secure your viewing time slots to view Hillhaven's show suites.
You are encouraged to fill out the appointment booking form on the official website. It is made very simple by selecting the preferred day and time for viewings with just a couple clicks.
Upon submission, one of our friendly sales representatives will reach out within one hour to confirm and verify your appointment booking.
Do kindly refrain from booking appointments on multiple websites as this will result in double bookings and should be avoided.
If you would like an exclusive viewing of the Hillhaven showroom, please procced to fill up our online appointment form and submit. We will reply within 2 hours after receiving your submission.
Alternatively , you may call our hotline from 10 am to 6 pm in order to notify us about your arrival time.
We highly recommend allowing at least two (2) hours' notice so we can send our project advisor on time to assist you professionally.
We assure and strive to offer you the updated and reliable prices. When you purchase through us, there will be no brokerage fee due to first come, first serve sales of all available units at Hillhaven condo.
Note to purchasers who plan to make reservations via phone or text: These reservations only last up to two hours and must receive official approval from management before becoming valid.
Hillhaven Prices displayed here may change at any time and without notice.
HillV2 is situated beside Hillhaven condo at Hillview Rise. It provides residents residing nearby an upscale shopping and dining experience. The building's sleek modern design appeals to shoppers looking for an exclusive shopping and dining experience.
HillV2 is a four-floor shopping mall offering a plethora of services and shops, such as gourmet grocery stores, fashion boutiques and fine dining restaurants.
Shoppers will be delighted with great shopping experience through their wide array of boutiques, specialty shops and high-end fashion stores offering the latest styles and classics from designers as well as affordable accessories.
Foodies can enjoy an abundance of dining options, from fine dining experiences to quick coffee breaks. The mall features some of the top restaurants and cafes in town, offering everything from Italian cuisine to Japanese fare as well as simple local fares.
It also places great emphasis on health and wellness, with wellness centers, beauty clinics, and fitness equipment devoted to your well-being. Here you will find everything necessary to revitalize and relax.
HillV2 Mall is more than a shopping centre; it's also an active hub of community activities and events. From art exhibitions to live performances, there's always something happening here that keeps visitors occupied – families, friends and individuals alike can spend quality time here!
HillV2 in Hillview Rise offers shoppers and diners an unforgettable shopping and dining experience. It has ample parking lots for drivers and is about 5 minutes walk from Hillview MRT.
Exploring the Historic Rail Corridor and the New Hillview Bridge
Rail Corridor began as part of KTM Malayan Railway during the early twentieth century, serving as an essential transport artery. Now defunct, the old Railway has been preserved and revamped to provide numerous cultural and recreational experiences.
Today, it is known as Singapore's Rail Corridor that's a 24-km continuous green spaces stretching from Woodlands to Tanjong Pagar.
This is not only a historical spot but also a dynamic green space for public use. With two newly added access points – Kranji Node and Hillview Bridge have been constructed along this arc of Singapore's natural beauty.
Hillview Bridge is a breath-taking structure that enhances accessibility and connectivity. Situated near Hillhaven Condo, residents can cross over Hillview Road to enjoy direct access to Rail Corridor via this new entrance.
Picturesque views of Bukit Timah Nature Park and Dairy Farm Nature Park can also be observed from the Upper Bukit Timah Hillview Bridge Lookout Deck.
With the existing pedestrian walkway along Upper Bukit Timah Road been extended directly to the Rail Corridor. The Rail Mall stretch of amenities are now accessible directly to those who wants a coffee or snack without having to cross the major pedestrian crossings along Upper Bukit Timah Road.
Visits to Rail Corridor has become a popular activity for residents and tourists to bask in its history and natural charm.
Outdoor enthusiasts also love walking and cycling along well-kept pathways through lush vegetation in peaceful settings. It is also a magnet for nature lovers due to its immense biodiversity, featuring bird species, butterflies and small mammals – providing ample opportunity for birdwatching and nature photography.
Hillview MRT Station (DTL 3)
Hillview MRT Station on Singapore's Downtown Line 3 (DT3) has become an invaluable asset to Hillview neighbourhood. This modern and convenient MRT station plays an essential role in improving access and convenience within Hillview area – especially given its close proximity to Hillhaven Condo.
The new station boasts a spacious concourse area, multiple ticketing counters, and passenger service desks – providing residents and visitors alike a smooth commuting experience.
Hillview MRT station serves as an entryway to various parts of Singapore. Its game changing Downtown Line connects the estate directly to Singapore's CBD and downtown, making it the ideal mode of transportation for professionals living at Hillhaven.
Hillhaven residents will benefit greatly from Hillview MRT station's close proximity to their home, giving them quick and convenient access to its train services – be it for work, shopping or exploring vibrant Singapore city.
Hillview MRT Station (DT3) has further elevated Hillview estate to be a serene and tranquil estate well supported by efficient transport connectivity to other parts of Singapore.
Bukit Timah Nature Reserve: An Nature Haven
In close proximity to Hillhaven lies Bukit Timah Nature Reserve – a verdant haven of natural beauty and biodiversity that stands out.
Bukit Timah Nature Reserve covers 163 hectares and is internationally-recognized as one of the most significant rainforests, standing as testament to Singapore's commitment to conserving its natural heritage.
Step into this lush haven to be met by towering dipterocarp trees providing shade. Below them lies an abundant tapestry of plant and animal life where nature enthusiasts can spot long-tailed macaques, agile squirrels and an assortment of bird species amongst dense tropical foliage.
Hiking enthusiasts will delight in discovering an array of well-marked trails crisscrossing through the reserve, such as the Bukit Timah Summit Trail which leads to Singapore's highest point at 163.63 meters above sea level.
Climbing not only presents an exhilarating challenge, but it also yields breathtaking panoramic views of the city skyline, giving an immense sense of accomplishment and providing a perfect vantage point to capture stunning photographs.
Bukit Timah Nature Reserve isn't the only draw in its immediate area; its borders also encompass Dairy Farm Nature Park, once home to an operational dairy farm with well-preserved cowsheds that still show signs of life today. A tranquil reservoir at its core provides visitors with an ideal location for leisurely picnics or relaxed strolls through this peaceful sanctuary.
These two nature parks are connected by a network of trails, providing nature lovers with an opportunity to experience the striking contrast between Bukit Timah's dense rainforest and Dairy Farm's open landscapes. NParks ensures seamless transition routes between deep rain forests and rolling hills of Dairy Farm Park for an enriching journey through diverse ecosystems.
For the sake of protecting these natural treasures, visitors are strongly encouraged to adhere to "Leave No Trace" principles when visiting. Staying on designated paths, keeping their surroundings litter-free, and showing respect for local wildlife and plant life are essential ways of contributing to maintaining vital ecosystems like this one.
Bukit Timah Nature Reserve provides residents of Hillhaven Condo and all visitors an opportunity to rediscover nature through adventurous hiking, relaxing picnic spots or peaceful retreats from urban living.
Get lost among its vibrant greenery, explore well-kept trails and be amazed by all that blooms within its borders – this urban oasis truly is truly impressive!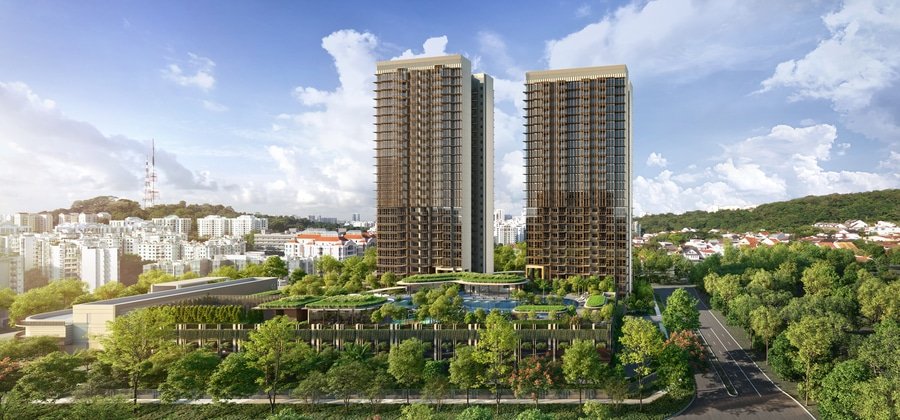 Good Compelling Reasons Why You Should Not Miss Out On Hillhaven 顶林佳苑.
1. Within 1km radius of CHIJ Our Lady Queen of Peace Primary School.
2. Only 1 minute's walk to Hillview Community Club
3. 1 minute's walk to HillV2 Mall
4. 2 minute's drive to National Service Hub (NS)
5. 3 minute's drive to Assumption English School
6. 3 minutes's drive to GESS-International School
7. 4 minute's walk to Hillview MRT Station
8. 5 minute's drive to Bukit Batok MRT Station
9. 5 minute's drive to Bukit Batok Town Park- Little Guilin
10. 5 minute's drive to Bukit Panjang Integrated Hub
11. 5 minute's drive to Junction 10
12. 6 minute's drive to Beauty World Integrated Transport Hub
13. 6 minute's drive to Bukit Panjang Plaza
14. 6 minute's drive to Bukit Timah Nature Reserve
15. 6 minute's drive to Hillion Mall
16. 6 minute's drive to St.Francis Methodist School
17. 6 minute's drive to Hindhede Nature Park
18. 7 minute's drive to Dairy Farm Nature Park
19. 8 minute's drive to Ngee Ann Polytechnic
20. 10 minute's walk to The Rail Mall
21. 12 minute's drive to Nanyang Girls' High School
22. 12 minute's drive to National Junior College
23. 14 minute's drive to National University of Singapore
Do refer to our Hillhaven Location Map to find out more!
Book An Appointment to view Hillhaven ShowFlat get VVIP Discounts (Limited Time), Direct Developer Price, Hardcopy E-Brochure. Guaranteed with Best Price Possible.
OR
Fill up the form on the right and get a copy of Pinetree Hill Price, E-Brochure, and Latest Updates!
 Strictly no spam policy.